Honda Maintenance Minder Codes
What is a Honda Maintenance Minder Codes
A Honda Maintenance Minder tells you when your Honda needs a service and what the service is for. Below is a list of the Messages, Main Items, and Sub Items and what they all mean.
Messages
Oil Life
• 15% means service is due soon. Plan to take vehicle in for scheduled maintenance.
• 5% Means service is due now. Take vehicle in now for scheduled maintenance as soon as possible.
• 0% Means service is past due (Milage past due is also shown). Service is overdue. Take vehicle in now for scheduled maintenance.
Below is an image of what the oil change percentage display looks like on on the dashboard.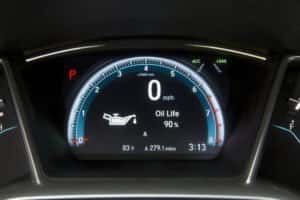 Maintenance Main Items
Symbol
• A – Means to replace just engine oil.
• B – Means to replace engine oil and oil filter. Also inspect various systems and components (see applicable service manual for details).
Maintenance Sub Items
1 – Rotate tires, and check tire pressure and condition.
2 – Replace air cleaner element, check drive belt, and replace dust and pollen filter.
3 – Replace transmission fluid and transfer fluid (if equipped).
4 – Replace spark plugs, replace timing belt (if equipped), inspect water pump, and inspect valve clearance.
5 – Replace engine coolant
6 – Replace rear differential fluid (if equipped).
Below is an example of what the maintenance minder looks like on the dashboard. For example the vehicle in the image has an "A" for the main maintenance minder and a "3" for the sub maintenance minder. This means the vehicle needs its oil changed and transmission & transfer fluid changed (if equipped).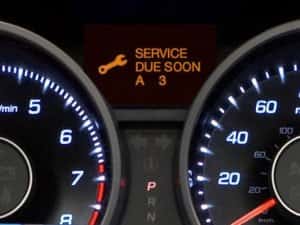 Below is good cheat sheet to go by with all the Honda Maintenance Minders listed along with what they all mean and what to do about them. Some trim levels and Canadian models have additional maintenance numbers and letters. For instance…
0 – is for Canadian models and means to replace the Engine oil and filter. This just takes the place of the B minder for American models.
7 – Is only applicable to some Honda models and means to replace the brake fluid.
9 – is also forCanadian models and is telling you to service the front and rear brakes.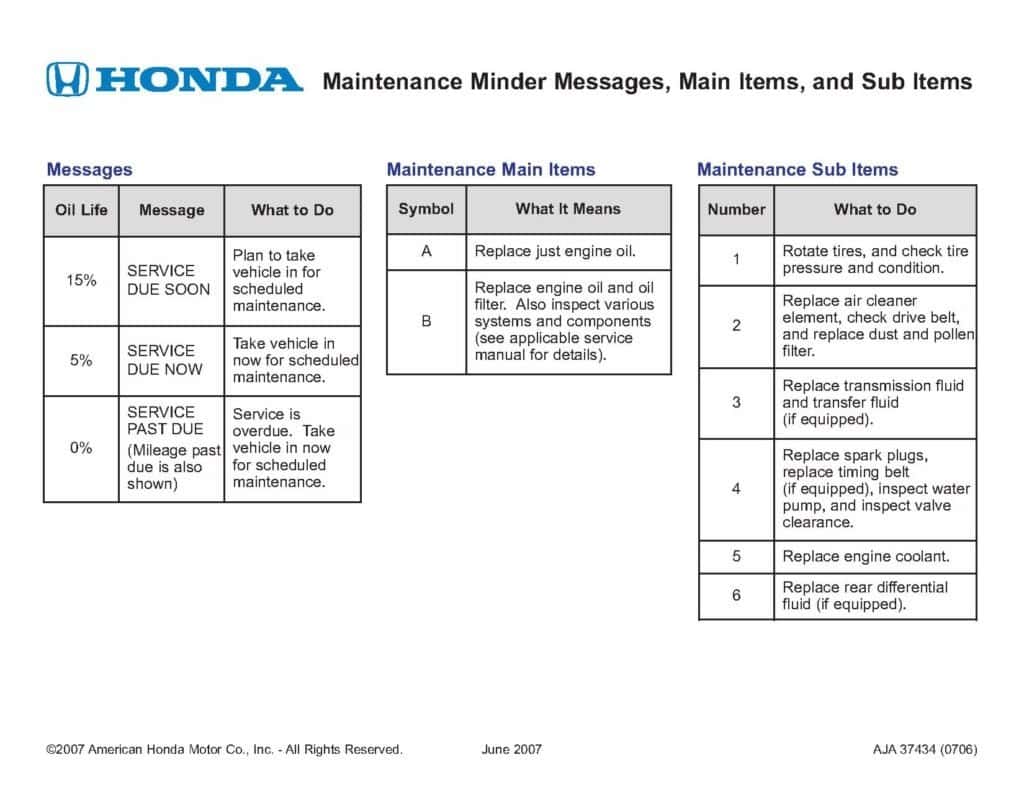 After you figured out what your maintenance minder codes mean and you completed the required service you still need to reset it so the codes are removed from your dash. Follow think below to learn how to reset you maintenance minder light.